Riveted Transformer Add-on
Riveted Transformer Add-on
Simple and stylish with just a touch of punk rock. The riveted add-on is made from real leather and snaps into any of the Rivithead Transformer wristbands.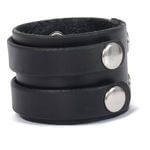 Transformer wristband sold separately.
Fits all Rivithead Transformer wristbands
Real leather
Made in the USA exclusively for Rivithead
Recommended for you
Customers who viewed this product also viewed

Low Price Guarantee
This product carries our low price guarantee. If you find it on the internet for cheaper we will refund you the difference plus 20% of the difference!
[
Full terms of price guarantee
]
Product Questions and Answers
Ask a question to our community about Riveted Transformer Add-on
Customer Reviews
Be the first person to write a review and share your thoughts with other customers.