Take Me With You Necklace
Take Me With You Necklace
Behold, a true masterpiece of devotion and style, the "Take Me With You" necklace from Alchemy of England. Crafted with utmost precision and care, this exquisite piece of jewelry will not only enhance your outfit but will also inspire you to embrace the power of trust and faith till the very end.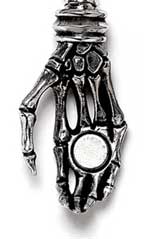 With its polished pewter skeletal hands that clasp together around your neck, this necklace is a true show stopper. The hands, adorned with an inlaid red Austrian crystal, add a touch of brilliance and elegance to the design, making it a standout piece in any setting. The hands claps together with a Neodymium magnet insuring this necklace stays securely fastened.
This necklace is not just a piece of jewelry, but a symbol of strength and resilience that will inspire you to overcome any obstacle that comes your way. So, embrace the power of this exquisite necklace and let it guide you on your journey, reminding you that anything is possible if you have faith and trust in yourself.
Approximate Dimensions: Width 2.09" x Height 1.89" x Depth 0.41"
Materials: Fine English Antiqued Pewter
Chain Length: Pendant hangs from a nickel-free chain with clasp fastener. Snake chain, approx. measuring 18"
---
Share this Product with Friends:
Recommended for you
Customers who viewed this product also viewed

Low Price Guarantee
This product carries our low price guarantee. If you find it on the internet for cheaper we will refund you the difference plus 20% of the difference!
[
Full terms of price guarantee
]
Product Questions and Answers
Ask a question to our community about Take Me With You Necklace
Customer Reviews
Be the first person to write a review and share your thoughts with other customers.