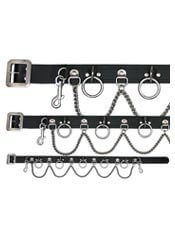 Share your thoughts with other customers
Bondage Belt 2 - 36CH
Reviewer:
Oh_My_Goth
Not to sound stupid but... *sounds stupid* is this belt used to just look all cute and shit and just wear on top of your pants without going through the loops, or to actually hold up your pants? I can't seem to find a way to wear it _._.
7 people found this usefull.
Was this review helpful to you?