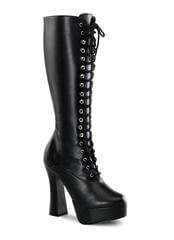 Share your thoughts with other customers
ELECTRA-2020 Black PU Boots
Reviewer:
Shannon Huhn
Having larger, more muscular calves, these boots are a tad small towards the top and the tongue seems a bit too narrow to fit someone like me, but they are extremely comfortable, easy to handle, and very sexy. Despite needing some modification, they are wonderful and I would totally buy them again!
4 people found this usefull.
Was this review helpful to you?