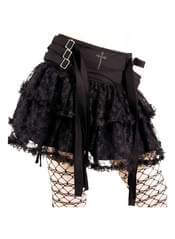 Share your thoughts with other customers
liked it but a bit disapointed
Reviewer:
Jennessa Schaeffer
The thing that i didn't like was that the cross detail that i loved in the picture wasn't bronze but black! This skirt is made of very nice materials but the straps are more gaudy than depicted but this also fit me perfectly. Looks a bit too poofy but that's okay with me.
5 people found this usefull.
Was this review helpful to you?