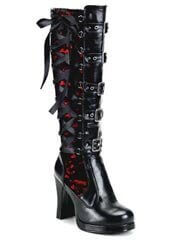 Share your thoughts with other customers
CRYPTO-106 Black Red Boots
Reviewer:
Gingermidget
I love the look of them. The I had two issues. The zipper running along the backside was difficult to move. The other issue was that they are tight against my legs. I would also like to point out that I'm not 'model skinny' but I'm about average. If you think you are skinny, you shouldn't have an issue. But if you're over weight, I recommend not buying these.
8 people found this usefull.
Was this review helpful to you?