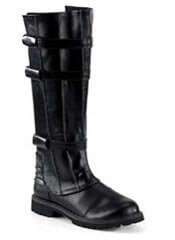 Share your thoughts with other customers
Really?
Reviewer:
Joshua
Received these boots in the mail and was very, very disappointed. For 95 bucks, you'd expect something made with a little more quality and craftsmanship, however, these are nothing more than costume pieces. They run about 2 sizes too large. If I can, I will be returning these and purchasing something that meets my standards. These are unacceptable for the price.
9 people found this usefull.
Was this review helpful to you?