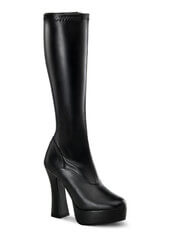 5 out of 5 stars (1)
| | | |
| --- | --- | --- |
| 5 star | | 100% |
| 4 star | | 0% |
| 3 star | | 0% |
| 2 star | | 0% |
| 1 star | | 0% |
Share your thoughts with other customers
ELECTRA-2000Z Black Stretch Boots
Reviewer:
Kimberley Brooks Politano
I absolutely LOVE this boot! Beautiful arch, nice high heel...perfect! Customer service is Awesome! I am a new customer and I encourage all to place your order from this company. From the speedy customer service replies, to the speedy shipping (UPS), to receiving the awesome product itself. I am planning on ordering more platforms and a few chokers!
The prices are great too!! One thing...the ad says that shoes are standard U.S sizes...I normaly wear U.S. size 10 (I am 5'9"), but I ordered one size up (size 11). I highly, highly, highly recommend that. I might have to go with a size
... [
More
]
1 person found this usefull.
Was this review helpful to you?