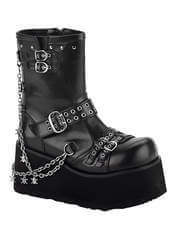 Share your thoughts with other customers
CLASH-430 Black Chain Boots
Reviewer:
Beccy
bought these around a year ago and theyve done me good!light and comfortable and easy to walk in. the chains need to be made higher as they slap on the ground and mine have become very worn now. they also had a wider toe than i first thought. overall i loved these boots and wore them everywhere no regrets in buying them!!
2 people found this usefull.
Was this review helpful to you?