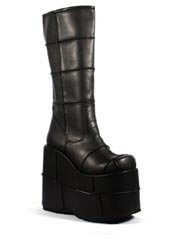 (8)
Share your thoughts with other customers
Totally Awesome Boots !!!
Reviewer:
Nick
I'm in love with them they are gorgeous and are going to be the most outstanding asset to my Halloween costume I am 5'11" so these make me almost touch the ceiling lol. The only reason I docked a star is because they don't fit my calves but that's no biggie I'm getting that fixed.
3 people found this usefull. Was this review helpful to you?