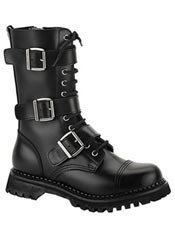 Share your thoughts with other customers
RIOT-12 Black Leather Boots
Reviewer:
Oliva
I liked the price and I love the look of the boots. They are steel toe so I can wear them to work. But they hurt the top of my foot. Not sure what it is. But something rubs and is super uncomfortable. Wish they would carry the half sizes. Then it would fit perfectly. I bought the size 4 in men since that makes it a 6 in womens. I've tried loosening the laces but it doesn't seem to work. I hope they just need me to break them in so they feel better. Because of now, they hurt my feet. Shipping was at a timely matter.
1 person found this usefull.
Was this review helpful to you?