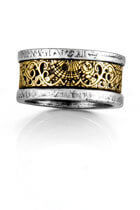 (4)
Share your thoughts with other customers
Dr. Von Rosenstein's Induction Principle Ring
Reviewer:
Allycat
This ring is totally awesome! And i'm very thankful to Rivithead's sizing chart as it fits perfectly. Goes with my Spectroscopic Nocturnium bracelet from Alchemy. Thanks Rivithead!
Was this review helpful to you?
Dr. Von Rosenstein's Induction Principle Ring
Reviewer:
Iz
Got this ring today, and I have to say, I adore it. I've wanted it for over two years. It looks alot better in person than in the picture, which impressed me ever more. It fit perfectly and I dont even notice its there (which is strange, because I am not a ring person). All the edges on mine are smooth and... well, It's an awesome ring. Great accessory for anyone.
2 people found this usefull. Was this review helpful to you?