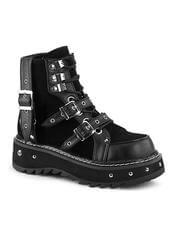 Share your thoughts with other customers
LILITH-278 Metal Studded Ankle Boot
Reviewer:
L
I expected these to not fit me at all, as I have a really wide foot. However, I was happy to find that this happens to be a very wide boot! Probably not for someone with narrow feet because of that. The size of them length-wise is as expected. Unlike regular boots, I ordered my normal shoe size instead of sizing down, and they're just right. If you size down, they may be too small.
The only problem I have with them so far is one of the studs near the toe can dig into the foot a little, but people with more standard feet than mine may not even have that issue.

Was this review helpful to you?