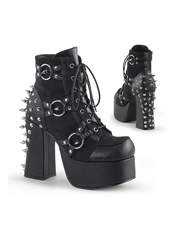 Share your thoughts with other customers
Satisfied
Reviewer:
Linda
They're very nice, but there are some things I dislike about them. They look like well made, but there are some things about them that make them feel cheap.

The bottoms of them are very smooth and slippery, I feel like I'm going to slip when I wear them. The bottoms of the heels are kinda rough and feel like hard plastic, they're kinda snagging on things. I don't think I would be able to wear them all day, they're not very comfortable, but I'm sure if I put some gel in they'd be fine. Overall I like them a lot. I'd say they're worth the price.
2 people found this usefull.
Was this review helpful to you?