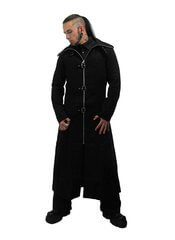 Share your thoughts with other customers
CHECK SIZES CAREFULLY
Reviewer:
Michael
I love this coat. I love the style, the way it moves. However, I am a somewhat bigger guy. I wear XL shirts, so I expected the sizes to match, given the lack of measurements. Be careful with them, mine was a size or two too small for my frame, I was barely able to move or zip up the coat. Be willing to wait for resizes if you're buying this product without size measurements.
9 people found this usefull.
Was this review helpful to you?