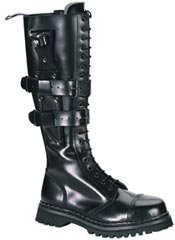 (3)
Share your thoughts with other customers
PREDATOR-I Black Combat Boots - Clearance
Reviewer:
Madcatassault
FOLLOW-UP REVIEW: A couple of things to note about these boots. 1) The zipper I mentioned before is amazing and saves a lot of time. 2) If you have thick calfs, you are going to want some longer laces (maybe 30 eyelet?) or just don't lace them up to the top eyelet (I had seam marks from my pants imprinted on my leg). I have mine laced to the 3rd eyelet from the top, and they are comfortable and look great. 4) Don't let some idiot look at the boots; I made that mistake and he broke the buttons off of the knifeholder (superglue works great to put them back on though). 5) I don't know if it was j
... [
More
]
Was this review helpful to you?
PREDATOR-I Black Combat Boots - Clearance
Reviewer:
Madcatassault
Well, I must say that I am very happy with these boots. I got them today and although it took me about an hour and a half to lace them up, they are very comfortable, and although you can't see it in the picture, there is a zipper on the inside of both boots that runs all the way down, so that will save a LOT of time. The only let down is the amount of time they took to get here, as the site put them on back order, and the manufacturer put them on back order, so it was about 2 weeks before I got them. Anyway, completely worth the wait, and I'll write a follow up review after I've had them for a
... [
More
]
Was this review helpful to you?