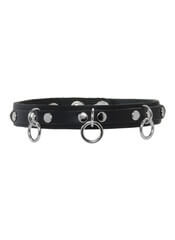 5 out of 5 stars (2)
| | | |
| --- | --- | --- |
| 5 star | | 100% |
| 4 star | | 0% |
| 3 star | | 0% |
| 2 star | | 0% |
| 1 star | | 0% |
Share your thoughts with other customers
Love it
Reviewer:
Alisa
This choker is perfect and exactly what I was looking for. I didn't want any pointy things sticking out too far or really big rings. The rings on this choker are the perfect size for me. I also like the width of the leather and its a nice quality. It feels comfortable around my neck.

I'm glad there was another review because my neck is the same size as their's, 13 inches, and I was going to get the smaller one but I went with the bigger one like they did. I'm glad I did because it would have just fit, where as the bigger size gives me more options and how tight I want to we
... [
More
]
2 people found this usefull.
Was this review helpful to you?
Cute Choker
Reviewer:
Lace Maker
This choker is great quality and construction, and looks really cute, without being overbearing. This makes it nice if you still want to make a gothy statement without drawing so much attention. I love pairing it with other necklaces and have worn it several times since receiving it.

For sizing, I got the M/L size. It has three different snaps. The entire length of the choker is 16 inches (40.5 centimeters). The shortest snap is 14 inches (35.5 centimeters), and the middle snap is 14.5 inches (37 centimeters). My own neck measures about 13 inches. I usually wear the choker at t
... [
More
]
4 people found this usefull.
Was this review helpful to you?