SNL uses the Shepherd trench coat in one of their skits
BY DAVID 12.20.16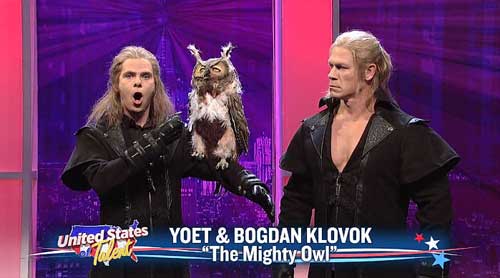 Saturday Night Live uses the Shepherd coat from Rivithead in 'United States of Talent' comedy sketch with John Cena and Mikey Day.
When SNL first called we had no idea that it was the costuming department of Saturday Night Live. The conversation was a bit odd, The lady on the phone needed some jackets for a show this Saturday and said she needed multiples because they were going to be vomited on.. ??
We are not one to judge but thought it was a bit odd. It wasn't until later that day and a phone call or two later we found out it was SNL. Then things made more sense.
The skit 'United Sates of Talent' aired Saturday December 10th 2016 and featured Mikey Day and John Cena as the brothers Yoet and Bogdan Klovok with their owl Majesty. The skit starts with the brothers explaining they had rebuilt the owls brain with other parts of it body. After describing the trick Majesty is about to preform mayhem ensues. Majesty the mighty owl unleashes from both end on Day and Cena.
The SNL crew was a pleasure to work with. And it was an honor (we think) to have one of our coats featured on the show. Be sure to checkout NBC's Saturday Night Live airing, well, Saturdays on NBC.